Real Way to Dakar
Mauritania, Morocco, Senegal
Real Way to Dakar
January 22nd 2024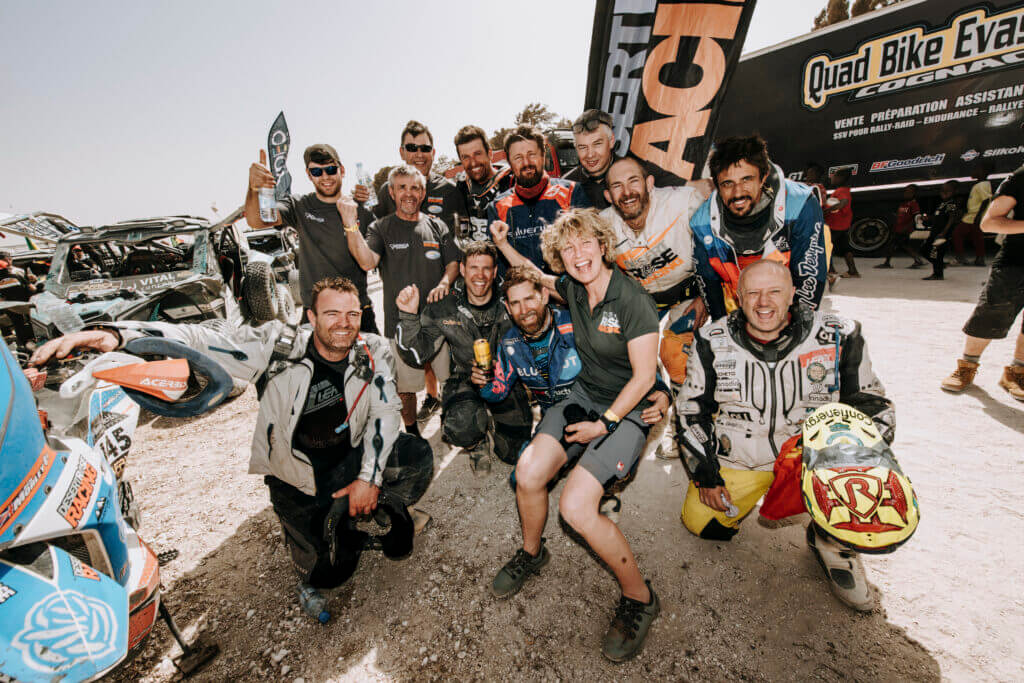 A few places left on our team for 2024, still looking for support? Get in touch!
The Real Way to Dakar has been in our calendar for a few years now, and came around with the aim to make the dream of racing through North Africa to Dakar more accessible to all levels of rider. A great organisation, but with the whole event having a focus on the adventure that helped to start the rally-raid sport many years ago! A tough event due to the duration and distances covered, but not technically challenging, a more achievable dream for more riders!
ABOUT THE EVENT
The Real Way to Dakar is a relatively new event in the calendar, and one that has taken a slightly fresh approach on two-week, intercontinental rally events. Loosely following the famous route that the original Paris – Dakar event took many years previous, the Real Way to Dakar hopes to invoke the same spirit and sense of adventure that helped create the very sport in the first place. Where the Africa Eco Race is a high level, ultra competitive event with the support structures and safety nets to match, the Real Way to Dakar is a more achievable and affordable event for those that have the dream of being a part of an event that follows the famous route to Dakar.
There is an optional 'soft start' in Paris, but the real riding starts in the north of Morocco, just as it often did all those years previous. From there generally the route heads south, skirting the border with Algeria as we explore the well travelled yet still challenging sands of Erg Chebbi and Chigaga, before turning slightly left, down past Guelmim, Tantan where the pace quickens as we set our sights on Dakhla, loosely marking the half way point! After this we head into Mauritania, and for many this is where the real adventure begins… The riding here becomes more challenging, and also more remote, as well as some of the most beautiful trails in the event. You'll ride mountains, soft sands and very remote regions as you explore and race through this lesser travelled country. After several days, we once again head south, and cross the border into Senegal. Just outside St Louis marks our penultimate bivouac, and from here you begin the final sprint stage, almost entirely on the beach, down to Dakar, finishing at Lac Rose.
The Real Way to Dakar is designed to be a more accessible event to more kinds of rider, achievable with a far more modest budget than what it would take to complete other similar events, it really focuses on the overall adventure and experience rather than out and out racing. For many this only adds to the enjoyment, and whilst the riding is no easy accomplishment, and will be more than testing at times, you also have a chance to enjoy and absorb the incredible places that you'll be travelling through. 
Desert Rose Racing are able to offer two main levels of support for this event, our well known 'Factory' and 'Lite' packages. For the Real Way to Dakar, our support works slightly differently, with the event design focusing on being accessible to everyone, there are several things that we include as a part of our assistance to help provide a premium, and more enjoyable rally experience. Whether this is by guaranteeing a hot breakfast option every morning, a covered and well lit area for you to sit and relax under of an evening, plenty of power for you to charge your devices, the facility of uploading your GPS routes day by day, providing Wi-Fi internet for you where possible, or even bonus additional meals (Hot dogs! Bacon Sandwiches! to keep you well fed through the event… That is the Desert Rose difference, all helping you to achieve your dreams of reaching Dakar.
For more information on our support, and what it takes to reach Dakar, don't hesitate to get in touch.
Historic Route

Trans-Africa Experience

Ultimate Desert Riding

Authentic Bivouacs
You can check out the foreign office travel advice for each location below:
What's included with event ride support?
Our team has been competing in rallies since 1999, and has all the experience needed to help you make your next one a success - no matter where in the world it is.
Popular Events